A weekend to relax, refresh and connect.
---
2023 is SOLD OUT!
Join CAMP – Caregivers of Autism Maximizing Potential – at the beautiful Blue Harbor Resort in Sheboygan. Inspired by 'Uniquely Human' author, Dr. Barry Prizant's 'Reflecting on the Journey' – this restorative weekend retreat is designed for those who love and guide individuals on the Autism spectrum.
---
Who It's For
CAMP is intended for anyone whose life has been touched by Autism. Whether you are a mom, dad, foster parent, grandma, teacher, or friend… CAMP is an inclusive and safe space for conversation and connecting.
CAMP registration fee can be paid for by CLTS. Hotel rooms can be paid for by CCOP or are the attendees' responsibility.
(CLTS Eligible currently in Brown, Clark, Columbia, Crawford, Dane, Dodge, Fond Du Lac, Jefferson, Kenosha, Milwaukee, Outagamie, Ozaukee, Sheboygan, Waukesha, Washington & Walworth County, email CAMP to determine coverage progress in your area.)
---
What You Can Expect
Meet others from all over the state, who have walked a similar path and faced similar challenges. Join us as we laugh and learn together. During three guided discussions we will share our triumphs and tears, from the past year.
Energizing Perspective
Listen and share ideas with other caregivers of individuals on the autism spectrum. We'll work through three guided discussion sessions that you choose based on your current season of life. Each is designed to help leverage the experience and perspective of others to navigate your own day-to-day.
Thought-Provoking Discussion
Our discussion and activity-based workshop is designed to help you reconnect with your partner, with yourself, and with your Autism journey.
Restorative Self Care
Time by the lake, a bike ride into town, an invigorating hike… or simply an uninterrupted afternoon nap. We've built in plenty of free time for you to reconnect with your partner and with yourself.
---
Luxurious accommodations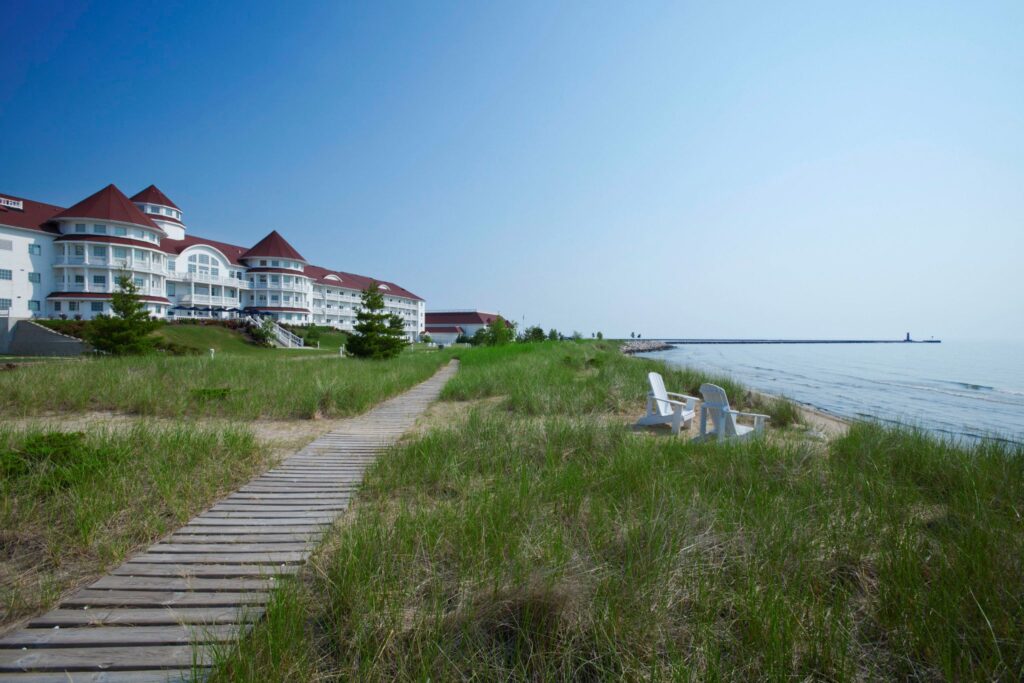 Overlooking Lake Michigan, this sprawling modern resort is just off Interstate 43. Spacious suite-style rooms feature a seating area and lake views. Upgraded room options can include a fireplace and an in-room whirlpool tub. Blue Harbor Resort has all of the amenities you need to relax and rejuvenate. See all that the resort has to offer.
---
Agenda
Saturday
9:00 – Check In
9:30 – Welcome
10:45 – Breakout Session 1 – Discussion Topics or Optional Yoga & Meditation
12:00 – Lunch
1:15 – Breakout Session 2 – Discussion Topics or Ruff Rage Room
2:30 – Free Time – or additional Ruff Rage Room session
5:30 – Social Hour – Cash Bar (Optional)
6:00 – Dinner (Optional)
Sunday
8:00 – Breakfast
9:30 – Breakout Session 3 – Discussion Topics or Optional Beach Walk
11:00 – Closing Circle and Goodbyes
12:00 – Lunch Boxes – Picnic or To Go!
---
Packing List
Clothes that make you feel comfortable to speak your mind and share your heart.
We recommend dressing in layers, while the weather outside might be warm, resorts can be cold.
Shoes for hiking, walking, biking, and generally hanging out outside.

Extra Credit – start thinking about how you would spend a few hours of free time, you might want:
Bike
Yoga Mat
Golf Clubs
Swim Suit
That book you've been meaning to read.
---
Investment & Scholarships
Join us for the most valuable weekend of your entire year. The investment in yourself to attend CAMP includes:
Amazing content, guided discussion & activities
Awesome swag. A few top-secret surprises
60-minute guided yoga and meditation session, ran by a certified instructor
Rage Room experience you are sure to not soon forget

The cost of CAMP workshop can be covered by CLTS. This excludes the hotel room. Speak to your case manager about how you can add this to your treatment plan. (CLTS Eligible currently in Brown, Columbia, Clark, Crawford, Dane, Dodge, Eau Claire, Fond Du Lac, Jefferson, Milwaukee, Outagamie, Rock, Sheboygan, Waukesha, Washington & Walworth County, email CAMP to determine coverage progress in your area.)
If you are not currently working with CLTS and need financial assistance to attend our event, please email info@letsgotocamp.com for details about scholarship opportunities.